Welcome to the World Song Moo Kwan Association
Our mission is to unite martial artists worldwide through the promotion of uniformity, harmony, and professionalism in the martial arts; keeping intact the vision, spirit, and integrity of our founder and the founder of Modern Taekwondo, Supreme Grandmaster Byung Jick Ro.
As the original Korean Kwan, and still operating under Senior Grandmaster Hee Sang Ro's direction, we proudly bear the responsibility of providing the highest caliber martial arts training to all - regardless of age, race, religion, creed, financial status, or disability.  We strive to provide a uniform rank promotion system and to serve as the leading resource to the global martial arts community in business and training standards, carrying forth the spirit of Song Moo Kwan for generations to come.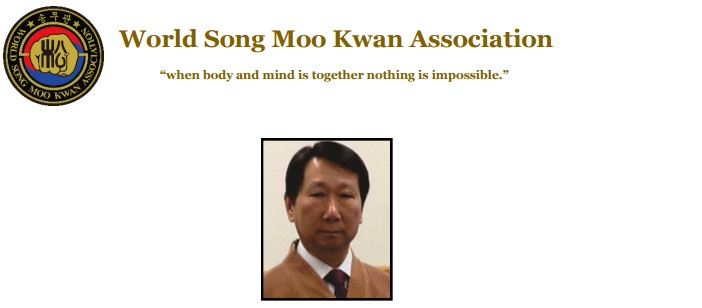 January 1st, 2016
Dear Song Moo Kwan family members 
On the advent of the seasons holidays I would like to convey to each one of you and to your families the best wishes for a wonderful and prosperous New Year 2016.
Looking back at 2015 and remembering the great loss we incurred by the demise of Supreme Grand Master Ro we remember him filling our lives with wisdom and guiding our path with light.
I would like to thank you all for the condolences and thoughts you extended to us during this difficult time and wish to assure you that our association's steps in the future will always be within the tradition and the spirit of our founding father. May he rest in Peace.
In the last quarter of 2015 we laid the foundation in Korea and Europe to rekindle the interest in Song Moo Kwan. This move is a regrouping rather than an expansion as it presents an open arm approach to reunite and embrace the Masters and Grand Masters from around the world.
We have every reason to believe in our success and we will be putting forward the guidelines for achieving our vision for progress in the near future for your consideration. Happy Holidays and a great and prosperous New Year 2016 to you all Yours in the Song Moo Kwan
Hee Sang Ro
President 
Song Moo Kwan
WSMKA 2913 Lyndale Ave. S. Minneapolis, MN 55408 USA
ESMKA 21A Hebron Road, Hebron Estate, Kilkenny-Ireland
SMKW HQ 9-19 Samil-ro 106-gil, Jinju-si, Gyoungsangnam-do, Postcode 52845 S.Korea